OKLICK GP-315M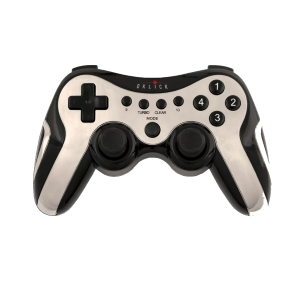 Gamepad Oklick GP-315M - a cheap product for simple games. The imperfect resource of this manipulator is compensated by the high quality of the assembly, as well as comfortable grip and convenient arrangement of the keys. In addition, it is equipped with vibration feedback and has LED signaling. Gamepad Oklick GP-315M black is designed to connect to a PC and is compatible with almost any software. The vibrating function makes the gameplay more exciting and realistic. A three-meter cable allows you to take a comfortable position and will not restrict your movements during the game. The controller has 12 buttons, among them - a fused cross and two mini-joysticks. Wired gamepad Oklick GP-315M supports different modes of operation (digital and analog), which allows you to adjust the controls for the features of the game.

Here you can download drivers for OKLICK GP-315M for Windows 10, Windows 8/8.1, Windows 7, Windows Vista, Windows XP and others. Please, choose appropriate driver for your version and type of operating system. All drivers were scanned with antivirus program for your safety.
Fix Device Driver Error Codes:
If you receive one of the following errors with your OKLICK GP-315M in Windows 10, Windows 8 or Widnows 7:
Windows has stopped this device because it has reported problems. (Code 43)
This device cannot start. Try upgrading the device drivers for this device. (Code 10)
The drivers for this device are not installed. (Code 28)
Windows cannot load the device driver for this hardware. The driver may be corrupted or missing. (Code 39)
This device is not working properly because Windows cannot load the drivers required for this device. (Code 31)
Windows cannot initialize the device driver for this hardware. (Code 37)
This device is disabled. (Code 29)
This means, that appropriate driver for OKLICK GP-315M is not installed or corrupted. This can be easily fixed by using driver update tool or by updating drivers manually. Download appropriate driver for OKLICK GP-315M for your operating system from our website.
Release date: 30 Nov 2013
Supported OS: Windows Vista, Windows Vista 64-bit, Windows XP, Windows 2000, Windows 7, Windows 7 64-bit